"Focus on your strengths but recognize your weaknesses". 
Have you ever heard the expression that we need to improve our strengths and eliminate our weaknesses? Well I believe that statement is half true. Improving our strengths will help us to achieve our goals faster. However, trying to eliminate or overcome our weaknesses will only lead to frustration, exhaustion and slightly stronger weaknesses.
I do believe it is important and a valuable exercise to take a Reality Check of our own individual strengths and weaknesses. I'm an advocate of the school of thought that says we should focus on the things we are best at (our strengths, our talents, our skills) and that we should strive to "staff" or delegate our weaknesses wherever possible.
An excellent example that I once heard was of Mick Jagger and the Rolling Stones. They are best at performing their music, and they are handsomely paid to do it. On the other hand they neither are best at nor paid to lug around or set up their instruments. They have learned to focus on their strengths and to staff their weaknesses.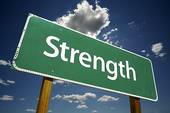 Week 19 Accountability Challenge: Reality Check Your Strengths and Weaknesses:  
Take out a piece of paper (as you may have noticed I'm a big fan of writing things down); draw a line down the middle of the page. On one side write 'My Strengths", on the other side write "My Weaknesses".
Be completely honest with yourself and write out as many qualities from each category as you can think of.
For example. One of your strengths may be that you are a naturally organized person who thrives off creating and sticking to lists.
One of your weaknesses may be that you just can't seem to keep your home free from clutter.
Take 10 minutes to write out as many things as you can think of-do your best to leave no stone unturned.
When you are done-Identify your top three strengths and weaknesses.
Find every way possible to focus more of your time and energy on your strengths.
Figure out every way possible to "staff" or delegate your weaknesses. Can you pay a naturally organized high school student to organize your clutter filled home? Or can you find a quality but cost effective house cleaner to keep everything neat and tidy?
How about a virtual assistant to help you with your business, or your taxes, or even your health?
Be creative and have fun with this exercise.
Expect Success,
Coach Mark, Thought for the week: P.S. "Focus on your strengths but recognize your weaknesses".
Mark Hudon, CFP™,  CCS™
Financial Fitness Coach, Certified Cash Flow Specialist™
Creator of The Core Conditioning Program™
Check out our exciting new Website, Radio Show, & Cash Flow Planning tools:
https://financiallyfitforlife.ca/
http://webtalkradio.net/internet-talk-radio/financially-fit-for-life/
http://cashflow-specialist.com/