Accountability Challenge Week 33: Success: Step by Step 
"It matters not how slowly you go. It matters only that you do not stop".   Confucius
When I initially created the 52 Week Core Conditioning Program, it was four years ago. One of my big goals back in 2011 was to complete my third Ironman triathlon in July 2011 in Klagenfurt, Austria.
I spent 6 months in serious training mode for the big event which was to take place on July 3rd.  As this was my third Ironman competition I was confident that I would successfully complete the 3.86 km swim, the 180 km bike ride and the 42.2 km run. In the allotted 17 hours.
My personal challenge to myself was my desire to produce a personal best time at the Ironman distance -which would mean completing the race in less than 11 hrs 5 minutes.
I am very proud to say that I successfully completed the race with a finishing time of 11 hrs 21 minutes. To be honest, I was initially a little disappointed that I was not able to achieve a new PB.
I was however extremely pleased and felt a huge sense of personal satisfaction and pride in knowing that I put forth my best effort and determination in a difficult test of personal endurance.
Last week I mentioned that we do not always achieve or control our desired outcomes in life, but we do have full control the level of effort, preparation and commitment we put forth towards our goals and dreams.
As I began to make my way slowly but steadily out on the marathon portion of the triathlon I knew that my success in reaching the finish line would come as a result of focusing my attention not on the entire 42.2 km which lay before me, but on the next step that was to come.
"Step by step" and "nice and easy" were the words that I repeated to myself over and over again, until they played like a mantra in my head.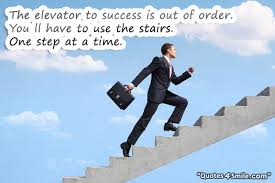 There were times were I wasn't running as quickly as I would have liked, and there were other times where running was replaced by walking. However to paraphrase the quote from Confucius, I knew that as long as I did not stop, as long as I kept moving forward, I would cross the finish line. I would succeed; step by step.
I couldn't think of a more appropriate metaphor that ties in the successful completion of my own race, to any goal that you may have set for yourself either now or in the future.
If you keep moving forward you too will achieve your goals!
What can you do TODAY and this week to keep moving forward?
Thought for the week:
"It matters not how slowly you go. It matters only that you do not stop".   Confucius
Expect Success,
Mark,
Mark Hudon, CFP™,  CCS™
Financial Fitness Coach, Certified Cash Flow Specialist™
Creator of The Core Conditioning Program™
Check out our exciting new Website, Radio Show, & Cash Flow Planning tools:
https://financiallyfitforlife.ca/
http://webtalkradio.net/internet-talk-radio/financially-fit-for-life/
http://cashflow-specialist.com/