Accountability Challenge Week 30: Celebrate the Journey
It's time to give yourself a pat on the back.
In this week's lesson I wanted to acknowledge everyone who has been participating in the Accountability Challenge that we started all those many weeks ago.
I've had the opportunity to hear from many of you about your own wonderful journeys towards goals that are meaningful to you.
I know that some of those goals include the following:
Preparing for your first marathon
Cycling 200 km for the Cycle to Cure Cancer
Becoming a successful speaker and entrepreneur
Succeeding in your new business
These are all tremendous goals that require significant commitment, focus, determination, and persistence, not to mention delayed gratification.
Some days we'd much rather just kick back on that comfy old couch with a bag of Ruffles potato chips and your favorite beverage….Well guess what today is that day…
It's time for you to take a moment, or several moments to celebrate your own progress-maybe it's to indulge in a few potato chips (let's admit it-they are yummy) -maybe it's curling up to watch your favourite movie-or to read a great book.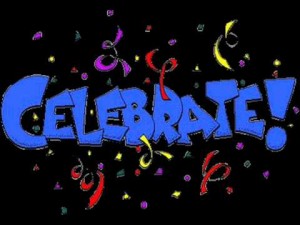 It is very easy to put this off or to feel guilty when we do take a moment to celebrate our journeys. Perhaps you haven't arrived at your goal just yet-maybe you already have. Either way, I personally wanted to acknowledge you for continuing to inspire me as I pursue my own goals and dreams.
Last week I mentioned the excitement and energy that is ours as the pursuit of our goals ignites a feeling of aliveness within our souls and our spirits.
My hope for you is that you have been tapping into that feeling of aliveness. An excellent way to do that is to not wait until the accomplishment of your goal-which is after all just a by product of the entire journey.
What can you do this week to celebrate your journey?
Expect Success,
Mark,
Thought for the week:  "The more you praise and celebrate your life, the more there is in life to celebrate."      Oprah Winfrey
Mark Hudon, CFP™,  CCS™
Financial Fitness Coach, Certified Cash Flow Specialist™
Creator of The Core Conditioning Program™
Check out our exciting new Website, Radio Show, & Cash Flow Planning tools:
https://financiallyfitforlife.ca/
http://webtalkradio.net/internet-talk-radio/financially-fit-for-life/