Accountability Challenge Week 28: The Power of Commitment: 
Are you committed to your goal?
Are you really? On a scale from 1-10, rate your current level of commitment.
If it is less than 10 out of 10, than I propose that you are not as committed as you absolutely must be to reach your goal.
You can easily gauge your personal level of commitment (and whether it needs an attitude adjustment) by the answer to this very blunt but telling question:
Are you doing the work that your goal is telling asking you to do to achieve it?
Are you?
When I relate this very question to certain goals in my life (specifically my business development goals) the answer more often than I'd like to admit has been a resounding NO. No I haven't been doing the work that my goal is asking me to do to achieve it.
The reason? It's Resistance with a capital R in the form of my own favourite brand of 'Rational Lies':
"But what will they think? They'll probably just say no, so why bother?
It won't work! I'm not smart enough, I'm not good enough….enough"
Lies, Lies, Lies. To quote my favourite line from The War of Art:
"Resistance is always lying, and it's always full of shit"  
 Ok, so now I've decided to fight through my Resistance and this is the time that I will finally do the work.
The truth is always simple, not necessarily easy, but always painfully simple-at least that's my own personal experience,  and it's always staring me in the face.
All I have to do is to have the courage to look at it, and then of course the courage and commitment to do the work .
What kind of personal commitment will it take to break through that wall of Resistance once and for all?
In listening to Pressfield's audio program, Do The Work, he quoted some wonderful words from author WH Murray that I wanted to share with you. I quickly skipped over them the first few times I listened to the lesson, but tonight I decided to make an effort to gain a better understanding-so of course I googled them and le voila here they are….I hope they resonate with you as much as they have with me.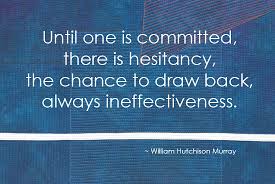 Accountability Challenge Week 28: The Power of Commitment:
"Until one is committed, there is hesitancy, the chance to draw back, always ineffectiveness. Concerning all acts of initiative (and creation) there is one elementary truth, the ignorance of which kills countless ideas and splendid plans: that the moment one definitely commits oneself, then Providence moves too. All sorts of things occur to help one that would never otherwise have occurred. A whole stream of events issues from the decision, raising in one's favor all manner of unforeseen incidents andmeetings andmaterial assistance, which no man could have dreamed would have come his way. I have learned a deep respect for one of Goethe's couplets:
"Whatever you can do or dream you can, begin it. Boldness has genius, power and magic in it."
Quoted from the book "The Scottish Himalayan Expedition, 1951", by William H. Murray (1913-1996)
Expect Success,
Mark,
Thought for the week:  "Whatever you can do or dream you can, begin it. Boldness has genius, power and magic in it." Goethe.                                 
Mark Hudon, CFP™,  CCS™
Financial Fitness Coach, Certified Cash Flow Specialist™
Creator of The Core Conditioning Program™
Check out our exciting new Website, Radio Show, & Cash Flow Planning tools:
https://financiallyfitforlife.ca/
http://webtalkradio.net/internet-talk-radio/financially-fit-for-life/
http://cashflow-specialist.com/