What do you do when your commitment to your goals just doesn't seem to be there?
 Accountability Challenge Week 23: Commitment to Completion
If you have a BIG goal, one that stretches the boundaries of your comfort zone-then it is only normal that you are going to have those moments, or days where your commitment to completion is tested.
That old internal enemy that I refer to as Resistance, has a way of creeping up on us and dispensing any number of rationalizations (or "rational lies") as to why we should "back off just a little" from the important goal (s) that we have set for ourselves.
I know this to be true because it has happened to me on a number of occasions.
The interesting thing about rationalizations is that they are filled with bits of truth-but they are also insidious dream stealers that are driven by one singular purpose-that purpose is to stop us from doing the work that our goal is asking us to do to achieve it.
There is a powerful reason, or number of reasons that inspired us to set our goals in the first place.
Setting big goals is relatively easy, achieving them is another story.
So when you do experience these moments of self-doubt, self-sabotage, or self-defeat, the antidote is to look back at the powerful, positive, passionate reasons that inspired you to set the goal in the first place.
Do these reasons still exist?
If the answer is yes, and I know that it is, then NOW is the time to make a new Commitment to Completion.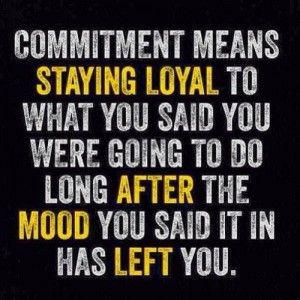 Commit to doing the work that your goal is asking you to do. Commit to doing the work today. Don't worry about tomorrow; just focus your attention on today.
What is the work that my goal is asking me to do TODAY to accomplish it?
For me it's going down to the basement and getting on my indoor bike trainer and completing my workout when I really don't feel like doing it.
It's sitting down to write this email when everyone else in the house is already asleep…
It's saying "no" to that old sly enemy known as Resistance, just for today.
It's about taking one more step forward…
It's about a commitment to completion that I've made to myself.
What is the work that your goal is asking you to do?
Commit to doing the work, just for today!
 Expect Success,
Coach Mark,
Thought for the week : "What is the work that your goal is asking you to do to complete it?" – Mark Allen 6X Hawaii Ironman Triathlon World Champion
Mark Hudon, CFP™,  CCS™
Financial Fitness Coach, Certified Cash Flow Specialist™
Creator of The Core Conditioning Program™
Check out our exciting new Website, Radio Show, & Cash Flow Planning tools:
https://financiallyfitforlife.ca/
http://webtalkradio.net/internet-talk-radio/financially-fit-for-life/