Accountability Challenge Week 21: Seize the Moment: 
Authors and speakers, and Hollywood movie makers all know that the art of crafting compelling conflict and a sense of tension that builds up to the finale of their story is an excellent way to hold an audience's attention and is a sure fire way to build a ratings winner.
If you happen to be at all interested in the sport of golf, or just sport in general, then from time to time there is a specific event or individual that catches our attention by seemingly coming out of nowhere and seizing the moment.
This particular event occurred four years ago but it is still very fresh in my memory. Unheralded 26 year old Charl Schartzel of South Africa laid claim to golf's most coveted prize, the Master's Golf Tournament.
Charl Schartzel  "seized the moment" and separated himself from Tiger Woods and several other of the world's greatest golfers in one of the most closely contested conclusions in major golf tournament history.
As I was watching the intrigue of the moment unfold it occurred to me I was witnessing the perfect symmetry between the potential that rested within the golfers in contention and the performance required to be crowned champion. It was going to come down to whoever was able to erase the potential-performance gap and "seize the moment".
It this case it turned out to be Mr.Schartzel, who declared afterward that "I just knew it was now or never". Now is the only time that we have to realize the potential that lies within. Unlike Charl, we may never be crowned champion of a prestigious golf tournament, however there are numerous opportunities for each of us to seize the moment in our own lives.
Now is truly the only time that exists. It is the only time that we can effect change in any aspect of our lives. Now is the only time that we can move forward in the direction of our goals and dreams. It can be as simple as making a decision right NOW to put down the remote control, get off our 'but' and go for a walk around the block.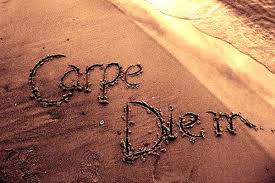 Accountability Challenge Week 21: Seize the Moment:
Take out a piece of paper and a pen and spend 5 minutes to complete the important exercise of "Seizing Your Moment".
Q. What will you commit to today, that will help you to move one step closer to your goal or dream?
Seize the moment to:
Choose an apple over an apple turnover.
Choose exercise over Xbox.
Choose to re-connect to an old friend.
Choose to call an important client of contact.
Choose to say Yes to your goals and dream.
Choose to smile instead of frown.
Expect Success,
Coach Mark,
Thought for the week: ""Carpe Dieme"
Mark Hudon, CFP™,  CCS™
Financial Fitness Coach, Certified Cash Flow Specialist™
Creator of The Core Conditioning Program™
Check out our exciting new Website, Radio Show, & Cash Flow Planning tools:
 https://financiallyfitforlife.ca/
 http://webtalkradio.net/internet-talk-radio/financially-fit-for-life/
 http://cashflow-specialist.com/