Helping successful business owners, professionals & happy retirees to be Financially Fit For Life.
A Life-Centred, Certified Financial Planner with a passion to help you to get more out of life.
Our focus is to help successful professionals, business owners & happy retirees who have a passion for a healthy & active lifestyle to be Financially Fit For Life,  Being Financially Fit means creating the life you want for you and your family & doing the things you enjoy doing for as long as you want to do them.
The main problem that we see is that the central focus of the financial industry is on products, prognostication & performance instead of a focus that puts peoples lives at the centre. A Life-Centred approach ensures that all financial decisions are in the best interest of you and your family so you can achieve better personal performance & create the best life possible with the money you have.
That's why we created The Financially Fit For Life Program™.  
This unique, Life-Centred approach helps you to:
•   CLARIFY YOUR VISION: We help you to gain clarity around all of your important Personal & Financial Goals including what it means to you to be financially fit for life, and create a specific, written plan to achieve it.
•  ORGANIZE & OPTIMIZE YOUR MONEY:  Your Financial Fitness Plan helps you to get the most out of your money with a thorough audit of your complete financial life including:   Investments, Tax, Insurance, Debt, Cash Flow, Estate & Giving. 
•  IMPROVE YOUR PERFORMANCE: We act as your Personal Performance Coach to keep you on track so you can achieve all your important personal & financial goals & ultimately be Financially Fit For Life.
WHAT IS LIFE-CENTRED (Lifestyle) FINANCIAL PLANNING?
A compelling service that focuses on the very thing that our clients tell us they want most…
Helping you to identify, achieve and maintain your desired lifestyle…without fear of ever running out of money.
Lifestyle Financial Planning is Financial Planning done properly!
It's not about products and investments.
They are just tools in the bag used (when required) to get the job done.
Our job is to create practical financial planning solutions so you can keep your lifestyle.
Our service is focused on helping you achieve and maintain your lifestyle.
How does it differ from Traditional Money Focused Financial Planning?
They say a picture is worth a thousand words. Hopefully these two graphics paint a vivid picture for you: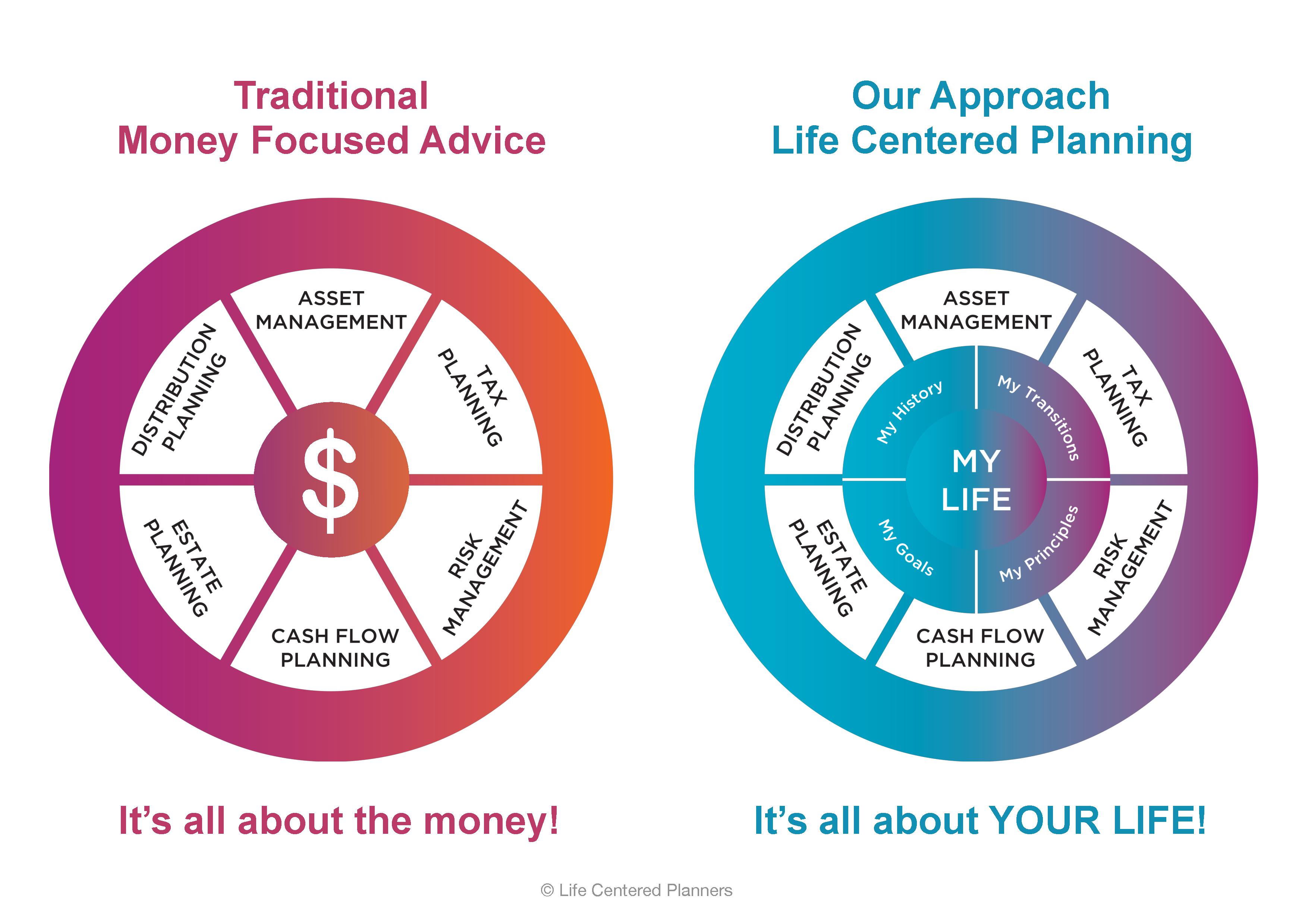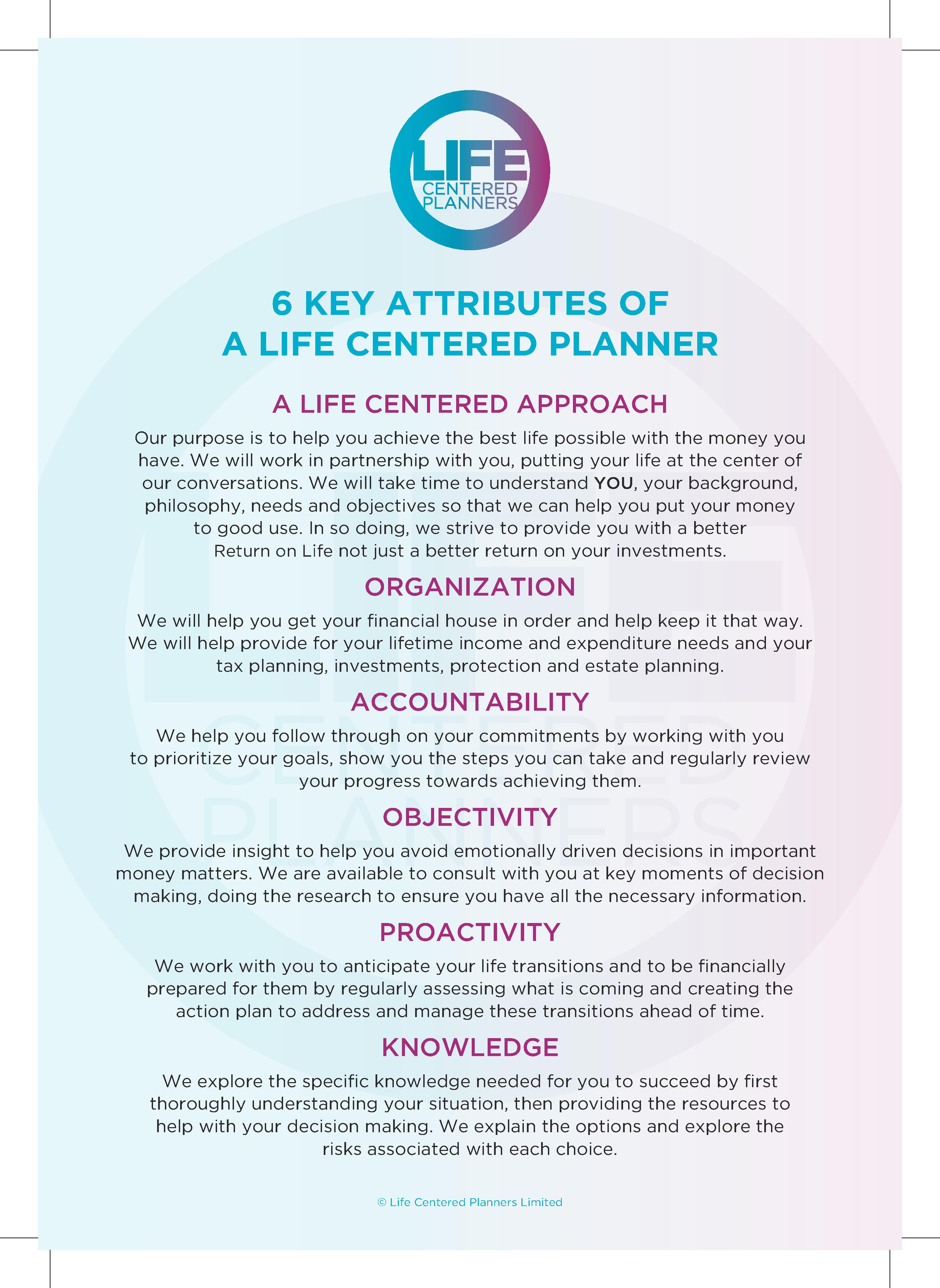 Your Financially Fit For Life Program is designed to help you to get the best possible life with the money that you have!
If you want to find out more about creating your own Financially Fit for Life Program, we offer a free 90-minute starter session.  During this session, we will help you assess your current situation and get to the core of what you really want.  We will then decide together if our program and services are a FIT for you and whether to take the next step to create and implement your own Financially Fit For Life Plan.
We offer our clients two choices: Basic and Advanced. For the Basic service, we can provide you with traditional financial planning services & and the appropriate products. Of course, you can get the Basic from many other advisors. However, the Advanced program we created—The Financially Fit For Life™ Program—takes everything to a much higher level and is only available from me, and my team.
The Financially Fit For Life Program™ Toolbox includes: 
The Financially Fit For Life Starter Session:  This is a 90 minute in depth, complimentary Starter Session where we help you to:
Benchmark & understand your current financial, personal & professional condition.
Identify the actions you need to take to make progress in the areas that are most important to you & your family.
Clarify Your Life Vision & create a step by step plan to achieve it.
Financially Fitness Checkup.  Step on the "financial scale" and get a complete Financial Checkup with recommendations on how to improve your  financial fitness including: 

Investments, Tax, Insurance, Debt, Cash Flow, Estate & Giving. 

Your Financially Fit For Life Plan goes far beyond "basic" financial planning to help you to create the best life possible with the money that you have & includes your personalized:
Retirement Accumulation Plan
Retirement Income Plan
Insurance & Estate Maximization Plan
Debt Elimination Plan